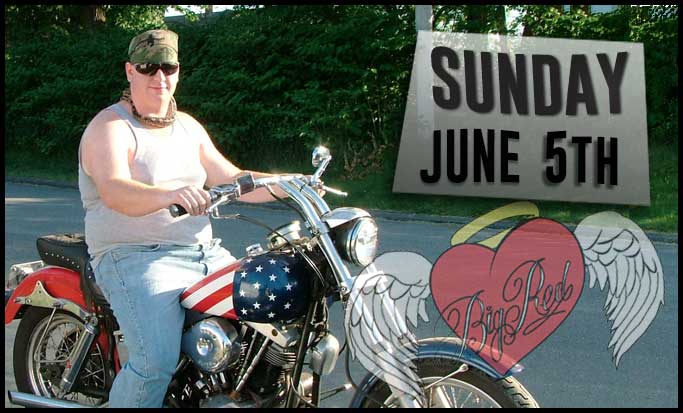 This event is in memory of Cory "Big Red" Milton who was killed instantly in a car accident nearly 10 years ago at the young age of 19. He had just graduated from Fitch High School in Groton and was attending Baran's Institute of Technology's motorcycle technician program.
During his time at Fitch, Cory's proudest achievement was to be a member of their football team for 4 years. Cory was 6 feet 3 inches tall and 300 pounds with bright red hair; he was often called a gentle giant but best known as "Big Red". His build made him an ideal lineman, but he often held some reservation about hurting his opponent. He truly was a gentle giant. In youth football, he'd tell his mother and father, "I don't want to hurt anyone. I am so much bigger than they are."
Being a member of the Fitch High School football team was an honor for Cory. When he put that uniform on, he would swell with pride to be a part of such a celebrated and respected team. Cory wasn't a star athlete. He was just thrilled to be there and play when he got the opportunity.
Cory loved all sports and during his childhood years in Groton he played baseball, basketball, golf, football, ice hockey and participated in track and field events. Again, in each case, he loved to be part of the team and participate in the sport.
With this, his parents and brother; Gary, Kelly, and Ryan Milton, have set up the Big Red Memorial Fund with proceeds benefiting children who cannot afford to play youth sports. This fund is used for registration, equipment, and other costs associated with youth athletic team sports for children in New London County. Since 2007 the Fund has helped children participate in baseball, softball, basketball, swimming, fencing, track, football, cheerleading and soccer.
The Fund has additionally helped Groton Mystic Youth Football, New London Youth Football, New London Babe Ruth, Groton Babe Ruth, Groton Youth Soccer, Fitch High School Football, Fitch High School Fencing, Fitch High School Track, Ledyard Football, New London High School Football, Stonington Youth Football, Stonington Youth Soccer, Stonington Seals Lacrosse, Groton Parks Recreation, and Waterford Basketball. The Big Red Fund has also helped send a few children to cheerleading camp and soccer camp.
Please join the Big Red Memorial Motorcycle Run on June 1st to celebrate Cory's life and make a donation to a charity that will help as many children as possible participate in sports programs that they may not have been able to afford otherwise.
Note: Donations can also be made to the Big Red Memorial Fund, c/o Citizen's Bank, 816 Long Hill Rd., Groton, CT 06340.
---
Interested in becoming a sponsor or have a donation you would like to make? Click the forms below to email or mail to them to us.
We thank you so much!